By Bonnie.Dee On Jan 13 2012, 9:00 am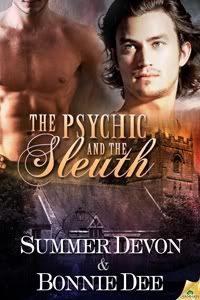 Readers often wonder how co-writing a book works. My co-author, Summer Devon and I were interviewed about our collaboration…
1. How did you start co-writing?
Summer: I've never met Bonnie. I read her story, Bone Deep, and loved it so much I wrote her a letter. We started emailing about writing. I offered to beta read one of her stories. I had a project I wanted to co-write with her and Marie Treanor. That didn't work out, but the door to co-writing was open.
Bonnie: I used to write fan fiction. When I decided I was ready to tackle a full length novel, I didn't have the confidence to plot it alone so I asked one of my fellow writers in the fandom to join me. We wrote Finding Home, a story about a street hustler and a journalist. My co-writer Lauren wasn't interested in pursuing writing as a career, but I turned the full force of my attention to it. After realizing what a solitary, rather lonely occupation writing is, I wanted to play with a friend again. I've written with several authors, including Summer.
2. How do you handle your co-writing responsibilities, ie the mechanics?
Summer: I'm a little afraid to talk about it because it works so well, I don't want it to fall apart. One of us has the start of the story in her head, the other reads what she's written, marks changes in review mode and adds her part. It's that simple. Once the basic idea is in place, I'd say plotting is about 50-50. Every now and then we vaguely plan the rest of what's going to happen.
Bonnie: On Finding Home, Lauren and I each chose the relationships and scenes we were most interested in. It was a very patchwork way to work that required much editing later to bring it all together. With other writers, we've kept it linear, passing the story back and forth chapter by chapter, more or less, depending on whether that person is on a roll.
3. Is there something one of you does better (research, plot, character, revisions, promotions)?
Summer: I love the research. I'll get lost in it. Almost none of that research will appear in the story we're writing, but maybe some of it will guide the plot. Bonnie has the gift of a turn of phrase. I think we both love writing and learning about characters. That's my favorite part of writing stories, actually.
Bonnie: I've had one co-writer who was more creative with sex scenes than I, another who was an exceptional plotter. Summer loves research and adds a lot of great period detail and clever wit to the dialogue. I think my strong suit is character development and setting a mood or scene. And I kind of thrive on revisions, diving in and cutting a manuscript to bits as needed.
4. How is your joint work different from your individual work (if applicable)?
Summer: It gets done faster. Problems that crop up are more fun to figure out. It's all done by email or notes on the manuscript. Not only have I never met Bonnie, I've never talked to her by phone.
Bonnie: I suppose one voice throughout an entire novel probably sounds different than a mixed voice, but we've had editors say they aren't sure who's written what in our stories, so I guess we blend well.
5. What challenges do you face when co-writing?
Summer: So far we haven't gotten into any big disputes. Occasionally one of us wants to change something the other doesn't think needs changing. I think whoever feels most strongly about a section or character wins, and the other backs off.
Bonnie: One challenge is letting go of pre-conceived notions of how a story should go. If I have definite ideas about a project from start to finish, I'll write it alone. But once you're with a partner, you have to be ready to roll with it when the manuscript takes a different turn than what you expected.
6. What rewards?
Summer: It's like my favorite game when I was a kid. Taking turns writing a story is more fun than a party.
Bonnie: The reward is having two brains working on one puzzle. When you reach the inevitable point where the plot sticks, someone will know how to write past it. Brainstorming together can be a joy. Things I never would've considered on my own come to light. It's a fluid creative process.
7. Where do two writers need to line up when co-writing? Attitude? Work ethic? Likes/dislike? Voice? What can you get away with not having in common while still making it work?
Summer: Check your writerly ego at the door. You can't be so in love with your own work that you refuse to allow changes.
Bonnie: It's important to check out the other author's work before you begin and make sure their voice is similar enough to yours. It's also important to me that a co-writer is a pretty fast writer, because I like to shoot the manuscript back and forth in a timely manner.
8. What advice would you give to any authors thinking about co-writing (with a friend or with a relatively unknown partner, if the answers are different)?
Summer: I think it was a matter of luck that it's worked out for us. We didn't set out rules or talk a lot before we started. That might not work for everyone.
Bonnie: I wouldn't write with someone just because they're a friend any more than I'd start up a business with one. You'd hate to wreck a friendship because of having a falling out. But if two people feel they're in sync and can work though the times when they're not, they should give it a go.
Summer and Bonnie's new male/male historical, The Psychic and the Sleuth is available in just a few more days at Samhain. An investigator is set to expose a fraudulent psychic, but both get more than they bargained for when the psychic has a true experience and the pair must solve a murder before someone else is killed. Of course, hot sex and lovin' also ensues.